Studio Maintenance
Remember when I was told to get power steering fluid? I went over to the Volkswagen Downtown Toronto to pick some up and then perused the showroom, sizing up potential studios and bugging the salesman with questions.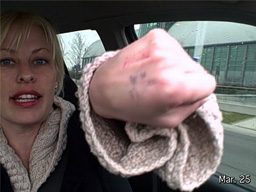 march 25 2009
Turns out Awin (that's what's written on my hand there) is the company that owns them and 16 other VW, Audi, Land Rover and other dealerships in and around the Toronto area. I'm absolutely going to write them a letter.
Me: Okay that's great, thanks.
Salesman: Wait a sec, why do you want to know all of this?
Me: Because I have an internet show starring my car and I'm going to write them to ask for a new one.
Salesman: [his face says 'this girl is delusional']
Then I took said fluid over to my Canadian Tire where Zaid [front right] took care of it even though he was done his shift and on his way home. Nice, eh? That guy in the back was nice too, but I've never seen him before.