Shots From My Interview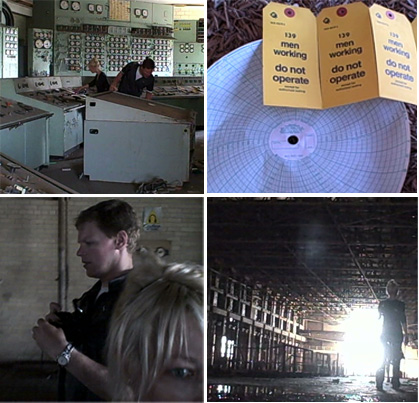 june 23 2009
A successful infiltration of Hearn Generating Station (see the previous post to learn about it). Used the entry point I'd found, a run through some open space and we were in.
The place is giant and totally empty. They'd removed the machinery a long time so now it's just cavernous and full of puddles and wires. Notably absent was any graffiti; rare, I think.
Top left is the control room, our favourite part (we pretended to operate it all… "imagine the power you'd feel?" and "too bad Toronto, lights out!"). Top right are some souvenirs I grabbed us from said room.
That's Sean with me, the force behind Generation Go and my interviewer. Guess I did okay for my first-ever interview, although I did have to be told to give more than one word answers. And then more than one short sentence. Pumped to see the finished product, I'll post it here when it's live.