How I Got Home
I'd disembarked on the first boat in the morning (we were anchored), got to the jetty, hello Sarnia, now what? My cab driver Gord was very helpful: no bus service, the next Via train wasn't until 7pm and sure he'd take me to the airport so I could try my out my idea. I walked into Huron Flight Centre:
Me: Is anyone going to Toronto?
Katie: Well, a student Matt might be coming in for a lesson, maybe he'll wanna go, you can chip in on gas
Me: Okay
Matt: Sure I'll go
Dennis: Keri I'll need your phone number [he's the chief pilot]
Keri: [gives number]
Dennis: Woah the last four digits are exactly the atmospheric pressure of [something something important in flight]… it's a sign!
Keri: So pumped
And we're off in this, and here's me in flight. Ariel views never get old:


In the middle photo is a house I swear is this house, and there's something beautiful about cloverleafs, eh.
I sat quietly in the back with my headphones on and learned:
– it's never good to navigate using roads as visual markers, instead use towers and lakes
– you can't really get a speeding ticket up there
– not all airports have control towers
– the temperature drops a lot between 3500 and 5000 feet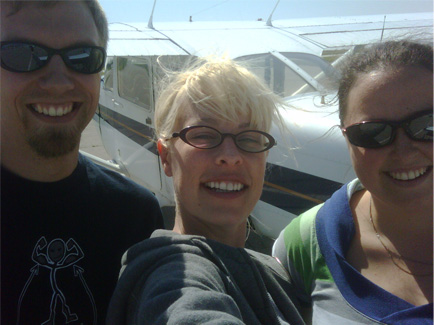 We landed at the island airport and that's Matt and Katie, the head instructor and who I'd like to lessons from because she has this calmness about her.
Me: Hey Matt, great job, I felt safe back there
Me: Is that your longest flight?
Matt: Oh ya, before this I've only ever been in a 5 mile radius around Huron
Me: You're a natural

There's something about Porter I just love, it's just… classy. Right down to their symbols like that of the ferry, which I've already I've told you about, and you can't beat that view of downtown.