My Team Won!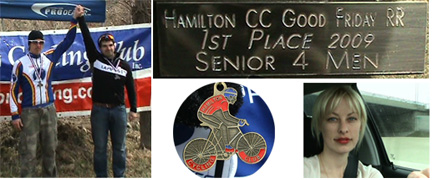 Today was the first race of the cycling season, and the first cycling race I've ever attended. I was being serious when I said I'd acquired a cycling team, like, I'm gonna be on their jerseys and everything.
I went to cheer them on in Clappison's Corners, just outside of Hamilton. I'd emailed with Chris, the organizer and president of the Hamilton Cycling Club, and he got me into a car so I was able to see and film the race, and wave to everyone in it; thanks dude.
From what I learned cycling is grueling, and it's a sport that's all like, "whomever can suffer the most will win". And the guy who did that is the head of my team, the one in the camo pants there on the left.
See the race results here; he had the fastest time of 300+ people and will wake up tomorrow the best in Ontario. That's his medal, and there on the right is a girl who has a winning team, ha.
I'm editing the episode right now, it's coming soon.