I Watched TV
That may sound mundane, but it happens only a couple times a year. Put a remote in my hand and I'll sit there for hoursss.
As I photoshopped the below montage I thought how revealing knowing what a person watches can be, kinda the same as knowing what's on someone's iPod or book shelf.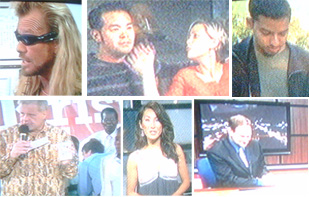 Top left to bottom right:june 19 2009
– 'Dog the Bounty Hunter'. What exactly are those sunglasses/headphones wired into?
– Finally I saw the show that's been on every magazine cover for weeks, Jon and Kate Plus 8, and really? I lasted 90 seconds
– David Blaine doing magic. Would like to have a coffee with that guy
– That's some infomercial for I forget. I adore informercials, always have
– Also finally got to see the girl behind my favourite celebrity gossip blog, LaineyGossip. That's her doing eTalk Canada.
– The local news. I think the worst part about the world switching to satellite is local TV will be pushed out, and that's not right.