Haircut Day
Here at Brennen Demelo Studios :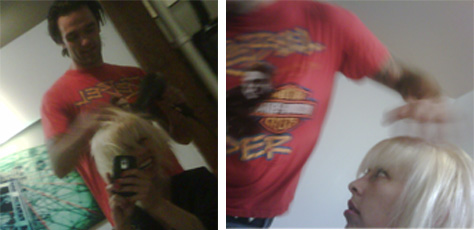 july 14 2009
Me: What's new now, you're probably off to something big, no? Since I cracked it, I know these things.
Him: Yes there's some stuff…
– in the beginning of August he's off to NYC to met with Jimmy Iovine, chairman of Interscope Records. Woah, I know. He's been hired to create the look for a new band that's coming out soon. He's doing this with international photographer (and CDN too) Raphael Mazzucco, top stylist 'The Inga', Marcus Tripp and the Ford Artists Superteam
– he did the hair for the September cover of Elle Magazine Canada
Him: And let's not forget about Rowenta! In September we stop the wait and start to participate.
Now here comes the weird part. When he goes to NYC next month I asked if Jeth was gonna be there. Who's Jeth? WELL.
Jeth Weinrich is CDN filmmaker who is the only one to ever win three Juno's for 'Video of the Year'. Scroll down on that last link to read more of his wins, there's a lot. He and Raphael have been working together for years, and I'd totally forgot this fact until last week…
Me: Do you know Jeth?
Him: Yup. Great guy
Me: Agreed, funny too.
Him: Wait, how do you know him?
Me: Because way back two years ago when I started this all, he was the first fan ever of The Canadian Explorer
Him: [stares]
Me: I know, smaaall world.
So hi Jeth! Miss our emails! Especially when you almost hit things taking photos of stuff while driving! Brennen's coming with a message from me when he sees you, hope to ttys.