Finally I Made it Inside Today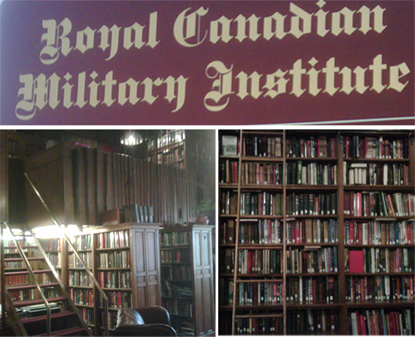 may 24 2009
Founded in 1890, The Royal Canadian Military Institute is our country's premier place for military arts, science and literature.  When I was leaving I heard a lady saying they were tearing it down, what?  Then I spotted one of the employees standing outside so went up and asked him if that was true and yes, it is.
He said it's one of the last places along University Avenue that's not been torn down but starting soon it'll be demolished and a 42 floor skyscraper of yup you guessed it, condos, will be built; they'll occupy the first six floors.
I mentioned I was worried about the library, they'll be keeping it intact, right?  You just can't build things like that anymore.  Apparently all the wood will be removed and then put back but really, it's too small as it's the biggest and most extensive military library in North America, 30 000+ books.  They have books that no one else has… some hundreds of years old, some worth six figures.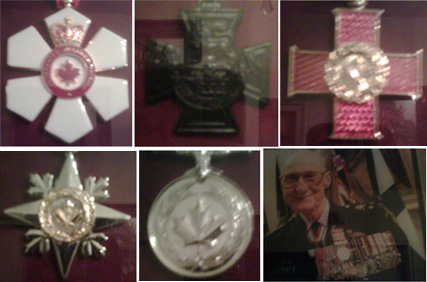 Above are medals from our Canadian Honours System.  From left to right:
– Order of Canada – highest civilian order you can get.  Since its creation in 1967 5000+ have been handed out and only 165 living people can have one at once
– Victoria Cross – the highest honour given to someone in the military.  Since its creation in 1993 none have been awarded (this one is from pre-1993 when the award had British connections)
– Cross of Valour – the highest ranking medal for bravery; 20 have been awarded since 1972
– Star of Courage – the second-highest medal for bravery
– Medal of Bravery – the third-highest medal for bravery
– Look how decorated that guy is, plus isn't he adorable?!  He's Leonard Birchall, one of our nation's important soldiers.
Then this exciting thing happened, look at this photo: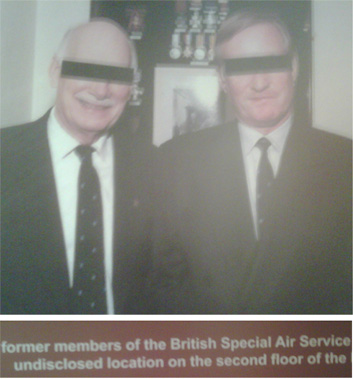 That's hanging in a hallway.  I saw the word SAS, stopped, and an employee walking by saw me staring and said:
Him: I like that photo.
Me: I do too.  And I know who that is!
And I actually really do. It comes from reading a ridiculous amount of spy books. Yes I am super nerd.