Eldon's Art Opening


Star of the yet-to-be-released "Exploring Art with Eldon" Eldon Garnet opened his newest show tonight, "Dominion and Categories of Disappearance" at the Christopher Cutt's Gallery (there until June 13th).
He did photography this time, two different installations. The first are giant photos of "iconic images that are lyrical yet threatening", and "we are confronted with the hope of a future in the difficulty of the moment".
The second installation is a collection of insects "which Garnet has meticulously collected and preserved for the last decade".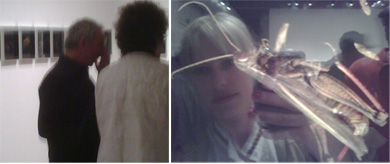 may 14 2009
There's Eldon there, in black on the left. There was no way I was asking him for another frame having not yet finished editing the million I have now.
Me: I'm sorry I haven't finished our episode yet.
Him: Ya, I'm surprised about that.
Me: [cricket, cricket]
Dude, I am sorry. It's not personal… I'm behind on everything. I'm behind on Wend, 5 episodes, website ads and completing my pitch page, never mind I should be hustling up traffic. I would like to point out, though, that this here blog has been updated daily for (dare I jinx it) 5 weeks now. Toot toot.
Note: the above words in "quotes" are copied from the press release at the gallery.