Cribbage Tonight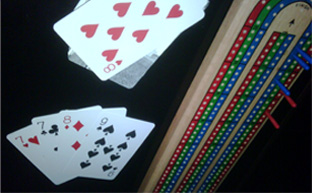 may 12 2009
Jody and I are back to our cribbage-on-the-patio program. Except this time we were inside at the 'Old York Bar and Grill' where one lone guy so efficiently served the whole place, plus the bar. Above is the highest hand we've ever seen – 24 points.
Note 1 – woah rare, no website… click here instead
Note 2 – WOAH this place starred in Restaurant Makeover? Snap, I wanna see that.