Chatting with a Renowned CDN Blogger
Meet Rannie aka @PhotoJunkie. He's won 3 Bloggies for "Best Canadian Blog" and, I love this part, because he kept winning the rules were changed that once a blog wins three times they are now in the 'Hall of Fame' and can no longer win.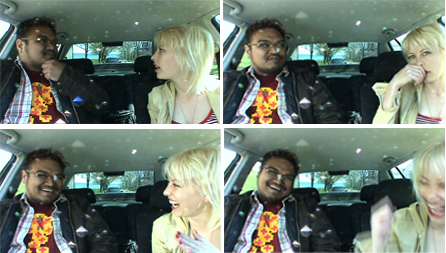 We doubled down:
– he's in a competition to win a Nissan Hypercube – Vote Now Here! He's been shooting a series of panoramas around Toronto for the contest and I had suggested via Twitter that he shoot one of my favourite places in Toronto, the RC Harris Water Treatment Plant. So we met there and my head is now in the panorama.
– I invited him into the studio for a chat about what it takes to be a successful blogger (and forgot to clean the camera lens, yaaa). He had excellent advice, the stuff that stuck in my head most being:
– be consistent
– be topical
– be timely
– the first 100 visitors/day are the hardest
– and, "Keri, you have to have this video we're making done by May 5th".
Okay dude, let's see if I can. Thanks for taking the time, and good luck winning a Cube.