Another Coffee Today
This time with Jasin Dollin, designer and builder of that cute little boombox below – you stick your iPod in and kick it down the street. He's launching soon.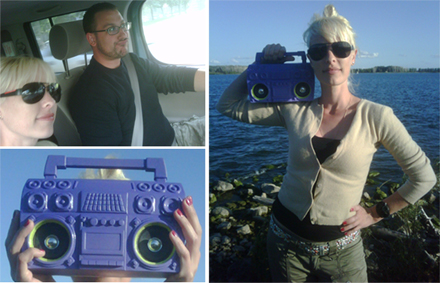 september 16 2009
I'd met him at Rannie's pano-gala opening recently, and it was odd:
Me: Hi, I'm Keri
Him: [shakes hand] Wait
Me: Waiting
Him: I know you, I've posted some of your stuff on my Facebook
Me: [I'll never get used to this]
And I don't think I will; I was recognized at the beginning of the year and I still have that same feeling when it happens.
In the background of the right photo is 'The Leslie Street Spit' which, until today, I'd assumed was a busy street downtown where there were a lot of smokers. Nope.
It's a 5km long conservation area that accidentally became that when, during the 60s and 70s, construction rubble was dumped there creating a headland, which the 'Friends of the Spit' fought to keep from being developed.
Thanks, Friends, it's cool Toronto has a little wilderness in it like this. There's also 300 different kinds of birds there, making it an Important Bird Area (that's a real thing, I didn't make that name up).