A New Intro is Needed
It's time to make a new Intro in a more fall / winter ensemble, same song but fresh footage. I know exactly what I want to wear: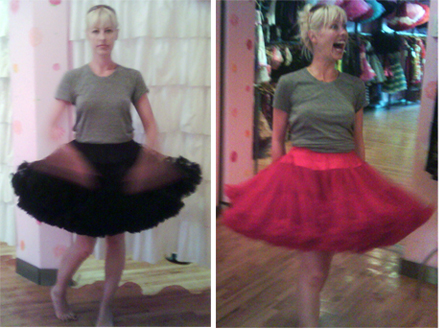 september 19 2009
I'm at Original on Queen West, I'd met the owner Simon not long ago. It's the only place in Canada where you can get a crinoline like that… there's 35 yards of fabric in each one, they're not itchy, and they're like the Porsche of crinolines.
Then I'm going to sew a little red&white striped dress to pull overtop.
I love these things, here's one I have. Jody took these photos, and see my face on the right? When you put on something like this you spin around fast, that's what you do… but who knew the thing was gonna fly straight out like that? The salesgirl actually squealed.