96.3FM The New Classical
I was invited to come say hi and go for a tour after I sent them the below TwitVid of me rocking out to some violins on their station:
I quite liked it there and got along right away with McLean (left) and Kennen (right).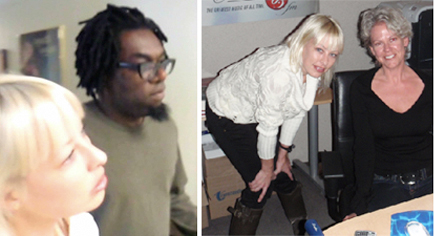 Me: Why am I all crouched like that beside you?
Kennen: I think you think the frame is smaller than it is
Me: Oh
Her: Ya you didn't need to do that
Us: giggling
Then we kicked around chatting and I can really see myself fitting in here, hosting a little online show like, "Let's Talk Classical!" which is what I told them. I love the stuff, all my episodes are set to it for a reason.
Oh hi Moses! Didn't see ya there. You make cool stuff.