Exploring the Toronto Star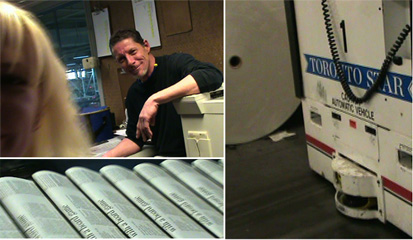 I went to Canada's highest-circulation newspaper printing plant this morning and guess what? The place is run by robots, like the one above. Guess what else? When you get your paper you are only the second human to ever touch it, the first is the delivery person.
I read up on the Atkinson Principles before going and the place reflected them, I thought. Recently, internet stations around the plant were installed where they ready? didn't restrict any sites. The Star's been in business for 117 years.january 28 2009
Probably the best part was how the papers travel by roller coaster. The whole placed smells good like a Sharpie. Thanks again for the tour, Mark. And for the pen that lights up, too.
(quick aside: I read The Star online and find it interesting that consistently day after day horoscopes is always in the top 5 clicked things overall).
Big snowstorm today: