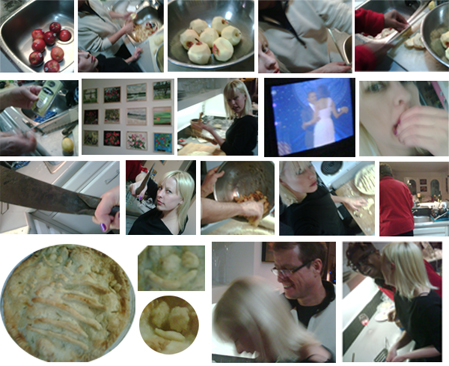 Follow along from left to right:
– Before.january 20 2009
– Ewww, why did I agree to this? Now is probably not the time to tell them I loathe fruit. Sucking it up.
– Ha, got out of taking the skins off.
– Might not be in the clear. Now the cores have to come out. And they don't have a little machine to do it, I asked.
– Chris showing me how to "core an apple". Then he hovered over me while I did because "watching you use a knife is kinda terrifying, Keri".
– Now you make lemon rind using this grater.
Jim: Push harder Keri, have you never done this before?
Me: No, never.
Jim: Okay, you know what a lemon is right? I mean, how far back do you want me to go here?
– Hey Jim painted all these; pretty, eh! I had no idea he could do that. Even though I've seen these paintings 500 times.
– Get instructions how to roll out dough. You wanna do it as fast as you can.
– Take a break to watch Michelle and Obama's first dance. We loved it when he added in that little leg kick.
– Get back to eating dough.
– Look what I found! It's a steel machete with the handle made by folding over the bottom.
– If I ever bake again I'm gonna use this thing from start to finish.
– Now have Jim pour the fruit into the crust.
– Decorate the top of the pie. Really take your time to avoid…
– … the dishes. It works.
– Tada! Jim put the American flag on the pie, I made the new First Family.
– Jim
– Chris
Then we served it with some ice cream and you know, it was a good feeling to feed people. Kinda get it now.